Skylight turns your TV into a big-screen photo frame you can email photos to.
"It's a magical feeling to pass through the living room and be surprised with a special memory." - Kathleen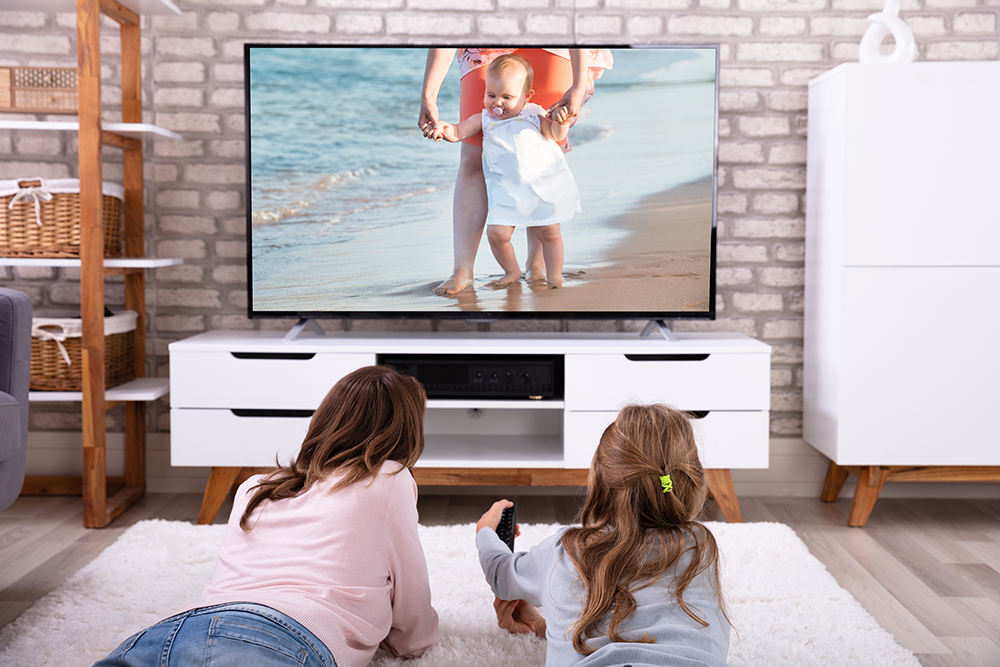 Get Your Photos Onto The Big Screen
Most of us have a beautiful TV in the middle of the house that sits empty all day — what a waste of space. We've made it effortless to turn your TV into a beautiful, big-screen photo frame to help you relive and celebrate your favorite memories.
You have so many special photos - from your wedding, to your family vacations and your kid's first steps - which are stuck somewhere on your phone or computer. Bring them into your home and onto your big screen TV with Skylight.
It's a perfect backdrop for when you're hosting friends and family, or any time you want to add some warmth into your home.
Delightfully Effortless to Use
It's always been so difficult to get photos onto your TV. No more clunky TV apps and hacks — we've made it effortless, regardless of how tech-savvy you are! Just download our app on your TV's App Store, and 60 seconds later you'll have photos on display. It's that easy!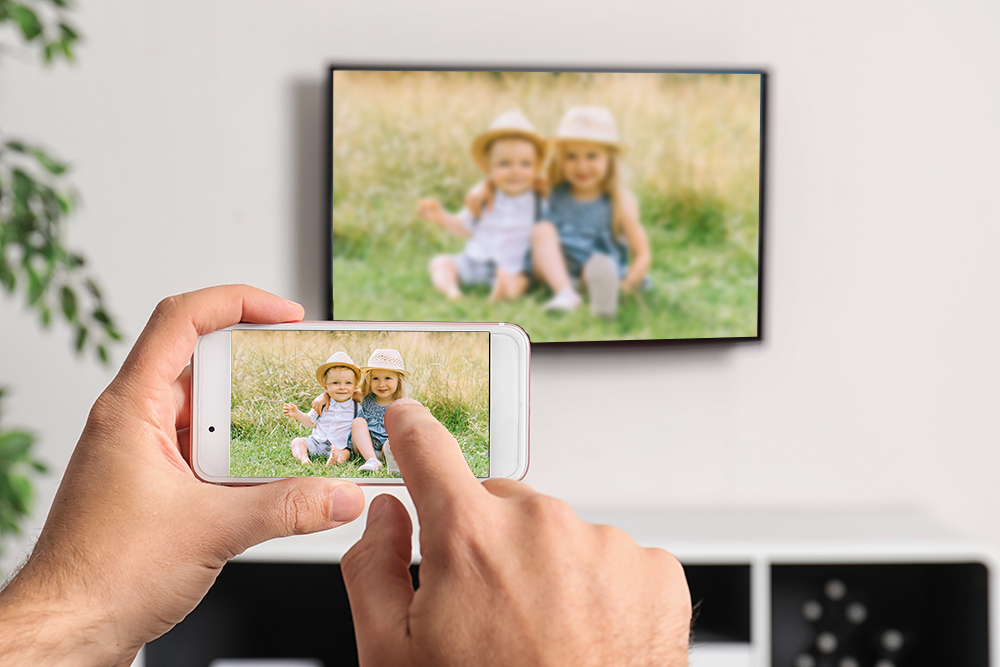 Plus, You Get Video, Family Sharing, and a Mobile App
You also get access to these advanced features:
Video. We're all taking more and more videos of special moments, and Skylight lets you easily play these on your TV.
Family Sharing. It's easy to let family members share photos and videos on your TV as well.
Full Control From Our Mobile App. Use our mobile and web apps to add and delete photos from your TV gallery.
100% Satisfaction Guaranteed
With tens of thousands of happy customers, we're confident you'll love your Skylight. That's why we offer a 100% Satisfaction Guarantee -- or your money back!
Key Features
Effortless one-minute setup
Just download the Skylight app from your TV App Store, and go!
Email photos to your TV in seconds
You'll get a unique Skylight email you can send photos to, and they'll appear on the TV in seconds.
Enjoy the slideshow
Watch all your favorite memories on a slideshow on your TV.
Your family can send photos too
It's easy to let loved ones contribute to your TV gallery from anywhere in the world.
Send videos and captions
Don't stop with photos. You can also share videos, and add text captions to your photos.
Easy control through our mobile app
You can also add and delete photos through our mobile and web apps.
USERS RAVE ABOUT SKYLIGHT
My wife and I got married four years ago, and we love to travel. Like everyone else, we haven't been doing too much of that lately. But we have all these amazing memories from our wedding in Napa, plus our recent trips to Portugal and Japan, so we've been throwing them onto the Skylight TV and enjoying the heck out of them.
– Sam D., Fresno, California
We have our family over every week, and I've always wanted to get family photos onto the TV for when they visit. I've probably tried 4 or 5 clunky, useless apps. Skylight was the first one that was actually easy to use. Now, we have it on most days!
– Peter M., Charlotte, North Carolina
We seriously considered not getting a TV at first, because it'd be this big black box sitting there empty most of the day. It feels so much better to have it showing our favorite photos. It's another place to see those happy memories, and it brightens up our day-to-day when we're working from home.
– Janine K., Austin, Texas
Dad's eyesight unfortunately isn't what it used to be, so even though we send photos to his phone, he can't really make out who's in them. Now we send photos to his TV every few days, and he religiously turns on the Skylight app to make sure he doesn't miss a beat!
– Deb K., New York, NY
Frequently Asked Questions
HOW IT WORKS